Who is BJ?
Besides pricing my work, this is probably the most difficult piece to write. I'll be brief.
I am a born again, Spirit filled Christian who leans to the Right politically. But, I am all these things while not forgetting that "God is love" and expects me to be a reflection of Him.
The Lord has blessed me greatly in life. All things I'd hoped for during my childhood have come to pass. Am I financially wealthy? It would depend on who you're asking. Ask my banker and the answer would be no. Ask someone deemed an "Untouchable" in Bangladesh, and the response would be, "wealthy beyond imagination".
I have an interest in researching my family history in order to make my children aware of the sacrifices our ancestors went through in order for us to live in freedom.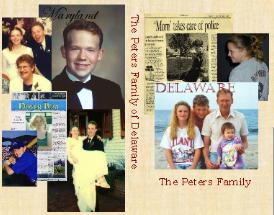 My maternal & paternal ancestors came to this country in the early 1600's, and we owe them and the Lord thanks for the rights we enjoy today. I believe if everyone could learn of their family's history, they wouldn't be quite as complacent about calling themselves Americans, no matter when their ancestors reached these shores. Freedom is NEVER free.
I've changed occupations a few times in my life, and each position afforded me an understanding of all types of people, and taught me compassion. I began my adult life as an x-ray technologist, assistant to foot surgeons, and then worked as a medical transcriptionist. I've been given the opportunity to sing professionally, and design and then sell decorative art pieces such as the fairly primitive, country flavored, nativity collection called "The School Play". [See a photo with the first three of five sets of pieces below.] It's nice to know that my pieces play a small part in families celebrating the birth of Christ at Christmas from Hawaii to Maryland.
Due to some physical limitations I had to stop using wood as an artistic medium, and began to vent my creative energies with a computer mouse and keyboard. I put my first website together around 1996, and love the creative process still.
I met and married my loving husband of 32 years while singing, and I would marry him again tomorrow. We have two daughters and one son. My oldest daughter works in the print news media, and my son is a photojournalist for a television station in our area. My youngest is now being schooled to be a photojournalist as well. I had the pleasure of teaching each of my children to read, and through homeschooling taught them about the Christian foundation upon which this nation was built.
I presently serve the Lord, and enjoy Christian fellowship in my home church. I've been given the opportunity to lead an adult Bible study, and sing in the Praise Band.
Having read all the above, surely you would agree that I AM truly blessed.